There will be no air layer "to order" for spring of 2020. 
More variety images and variety descriptions can be found at Ourfigs.com the index can be found HERE
I will add the ability to order custom Air layers at 9:00-9:30 2/28/20
PLEASE NOTE:
These are air layers made to order just for you.  Same as if you call and order a pizza, till you place the order the pizza is not made and same goes for these plants.   Once ordered they are created and the process takes time 6-12 weeks as a rule.  I TRY my very best to get all the first generation air layers that are ordered by May mailed out to the buyer by July,  I start mailing the airlayers out mid June.  I will contact the buyer a few days to a week before they are mailed out to make sure the timing works for them.   The layers will be delivered in the summer but generally it is June and July it is a lot of plants and it takes time to get almost 1000 air layers started.  
There are many unscrupulous sellers on eBay and on the internet simply looking to steal your money and never ship what you paid for,  or perhaps worse, send you fakes.  In an attempt to combat this Ourfigs.com has developed a trusted eBay sellers list you can view HERE and a trusted Internet Nurseries list HERE.    If the person or business you are about to send your hard earned money too is not on the list make a post and ask about them, our 2000+ members are a great source of information on what sellers are great and which should be avoided, it could save you a lot of time and aggravation.  One big red flag should be if the seller does not accept Paypal RUN don't walk away.  

For the past several years I have offered custom "to order" air layering of the figs and it has worked out very well.    They can be ordered at any time of the year and the air layers are placed on the trees starting in April/May and when ready (approx 6-12 weeks) removed and shipped out.  It is an easy way to get the exact plant you want without having to worry about rooting the sometimes difficult to propagate varieties or the at times crazy bidding wars on eBay.  

The amount of air layers I will do is extremely limited.  I put 5 air layers on each tree for every 3 ordered so I will be sure to be able to fill the orders.  Generally I can do two rounds of airlayers on most trees so there is an early summer and late summer delivery window.   If on the order pages the variety you want is still available then there are still air layers to reserve. 
The air layers once removed will be placed in a 1 gallon nursery pot and allowed time to become very well established before being mailed out.
Below is what the air layers will look like  when freshly removed from the mother tree, before being potted.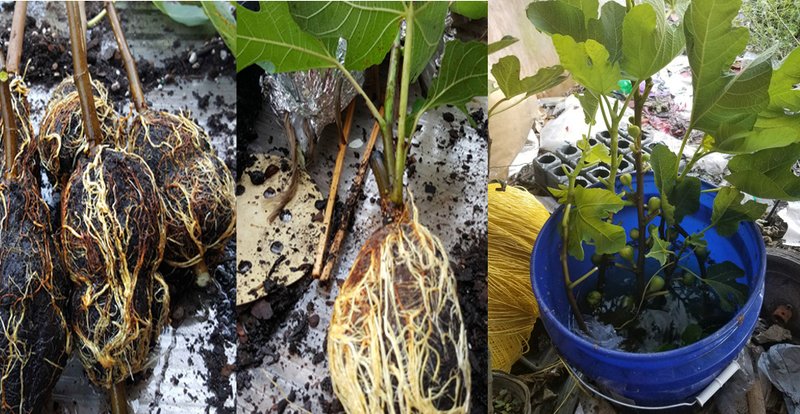 The full list of what I currently grow is below, you can then use the search function to find the same variety on the products pages you can find 
HERE
Abaldufada Rimada (Panachee)
Abebereira 
A Panetta 
Acciano  
Albacor Comuna 
Albacor Grossa 
Algerina  
Ali Pasha  
Alma  
Alvas Verdal 
Angelina 
Ambra Nera 1 
Ambra Nera 2  
Angelos Dark 
Archipel  
Armea Nera   
Armenian  
BG Gold 
BI 39 
Bakio  
Banana 
Bari  
Battaglia  
Bayenfiege Violetta  
Bebera  
Beers Black 
Bella Di Maria  
Bianchetta 
Bissiri Dark 1  
Black Beauty 10  
Black Bethlehem  
Black Celeste  
Black Greek  
Black Ischia AD  
Black Ischia UC Davis 
Black Madeira  
Black Madeira (KK)  
Black Mission  
Black of Bourjasotte 
Black Of Provence 
Black Sicilian Italian  
Black Triana 
Black Tuscon 
Black Zadar   
Blanca De Maella  
Blanche Alsache 
Blanche De Arguntil 
Blanche De Deaux Gaison 
Blanche De Turquie 
Blanquette  
Blavetta (Campos) 
Bordisott Blanca Negra
Bordisiott Negra
Bordisott Negra Rimada  
Bordisott Blanca   
Bordisott Blanca Rimada 
Bordisott Verda  
Bordisott Rossa  
Bordisott Roja 
Bourjasotte Gris 
Bourjasotte Noir 
Bournabat  
Brents Red  
Breva 
Brianna  
Brogiotto Bianco 
Brogiotto Nero  
Bronze Paradiso 
Brooklyn Green
Brooklyn White   
Calvy  
CM 7  
Caba Bandols  
Cajun Gold 
Calderona 
Calderwood  
Calvert  
Camuna Black  
Capitola Long  
Capol Curt Negra  
Capol Llarga 
Carini 
Carne Doncella 
Celeste  
Celts LDA Not 
Cendrosa  
Chi Italia 
Chiapetta  
Citrulara   
Col De Dame Blanca Negra  
Col De Dame Mutante 
Col De Dame Noir  
Col De Dame Rimada  
Col De Dame Rimada sport large mulberry leaves  
Col De Dame Roja  
Cold De Dame Rossa
Col de Dame Grise 
Colasanti Dark 
Colonel Litmans black  
Columbaro Bianco 
Columbaro Nero  
Corsican White
Cosenza  
Cucurella 
Cuello Dama Negro  
Cul De Cove 
Culummu Neru 
Cvetko   
D' N Amoros 
D'En Pere Gran  
De S'Hort d'en Fullana  
Daleon  
Dall Osso   
Dannys Delight  
Dark Portugese 
Dauphine  
De Ca GA   
De Cap D'Any 
D'En Manel 
De La Caseta  
De La Gloria  
De La Penya  
De la Reina  
De la Roca  
De La Senyora  (Hivernenca) 
De La Senyora (Singura) 
De Tre Espelets 
De La Plata 
Del Sen Juan Gran 
Delcor  
Dels Emeritans 
Desconcida 
Diredo  
Domenco Tauro   
Doree  
Douqueira Negra 
Dr. Gowaty  
Drumondi #2 
Early Violet  
Easton Purple  
El Molina  
Emerald Strawberry  
Emmalyns Purple 
Excel                   
FMV free BI NOT  
Ferrante Rossa  
Ferrente Roso   
Fico Branco            
Fico Coffee  
Fico Fiorene 
Fico Gentile (American Version) 
Fico Gentile (European Version)  
Fico Pesco D'Oro  
Fico Preto De Torres  
Fig De Parfum  
Figo Preto 
Fico Santo  
Filliciano Bianco  
Filacciano Nero 
Fiorone Ruvo 
Flanders  
Florea  
Fonne   
Forastera  
Fracazzano Rosso  
Freckeled Beauty  
Freds Celeste 
Galicia Negra  
Genoa White  
Genovese Nero (AF)  
Genovese Nero (Robs) 
Ginos Black 
God Father 
Golden Celeste 
Golden Riverside 
Gota De Mel 
Granadina (true)
Grantham Royal  
Grassas Unk Seattle 
Greek #2  
Green Ischia 
Green Ischia UC Davis
Green Michurinska  
Gris De Saint Jean  
Grise Olivette 
Gros Gris De Notre Dame
Gros Monstruse Di Lipari 
Gulbun TF 
Hardy Chicago  
Hardy Hartford 
Hivernenca Blanca  
I-258    
IGO 
Ice Crystal 
Improved Celeste 
Israel Red 
Italian 256 
Italian 320  
Italian 395  
Italian 88  
Italian Alice 
Italian Beauty  
Italian Yellow 
Izbat An Naj 
Izmir   
JH Adriatic  
Jin Ao Fen 
Jurupa  
Karachi Green 
Karayaprak DFIC# 78
Kathleens Black  
Keserini  
La Goccia D'Oro 
Lancianese 
La Bourgeoise 
La Goccia Doro 
Laradek BT  
Latrolla 
Long Yellow Neck  
Longe D'Aout  
Longue Verte D'Aout 
Lsu Black            
LSU Champagne  
LSU Ever Bearing  
LSU Gold  
LSU Jack Lilly  
LSU Purple  
LSU Red 
Lsu Thibodeaux
LSU Tiger  
LUV  
LV 5 
Luigi #4  
Lungi De Portugallo  
Macool
MBVS NOT   
Main Street Purple 
Malta Black  
Malta Purple Red  
Maltese Beauty 
Maltese Falcon  
Manressa  
Manresa Llucmajorera 
Mare De Deu  
Margalera  
Marinese  
Martinenca Rimada  
Martina 
Martineca Blanca  
Martinenca  
Martinenca De Miner 
Mas De Pelcastro   
Mata Soldats 
Mate Pinta  
Mavra Sika  
Mega Celeste 
Melar 
Melanzana Calabrese 
Melissi 
Miaa De Vacca  
Miralla  
Makedonian Dark 
Moreno 
Morle Paradiso 
Morro De Bou  
Moscatel Branco
Nalaga 
Napolitana Negra  
Napolitana Negra (Spain) 
Nardi Black  
Nardi Black 
Natalino   
Native Black 
Negra D'Adge  
Negra Primernenca  
Negretta  
Negro Largo 
Nero 600M  
Neruccolo D'Elba   
New Jersey Red  
Nexoe 
Niagara Black  
Noir De Caromb  
Noire De Barbantane 
Noire De Bellone  
Nordland 
Nuestro Senora Del Carmen  
Nyack Purple  
O'Rourke  
ORO  
Ohra Tabahano Sika 
Olympian 
Orphan  
Osborne Prolific 
Pan E Vino Dark 
Pan E Vino White  
Panachee  
Paradiso #9 
Paradiso Genova 
Paradiso JM 
Paradiso Nero 
Paratjal Negra  
Paratjal Rimada  
Parisienne 
Pasquale  
Patlican  
Pel De Bou  
Peloponnisaka Aspra  
Persian Yellow 
Petrelli  
Petrrella  
Piccola Negretta 
Pied De Beau  
Pingo De Mel  
Piombinese 
Pink Jurusalem  
Planera  
Plint Melunga 
Plint Nero   
Ponte Teresa  
Popone 
Porquenca negra  
Princessa
Prusch Park Igo  
Purple Jordan  
Ragno  
Raspberry Latte  
Red Lebanese (Bass) 
Red Lebanese (Marius version) 
Red Libya  
Red Sicillian  
Riggata Rossa 
Rigato Del Selento (A Version)) PV (Punto Verde Nursery, Unifera)  
Riggato Del Selento (B Version) PB (Paolo Belloni Bifera)  
Rockaway Green  
Roeding #2  
Roeding #4   
Rojeta 
Ronde De Bordeaux 
Roso De Puglia  
Rosso D'Trini   
Royal Greek 
Saint Anthony  
Saint Gabriel  
Saint Jerome  
Saint Martin  
Saint Rita  
Salam   
Salce          
Salem Dark 
Sals Corleone    
Sals El Gene 
San Donato   
Sangue Dolce 
Santorini 
Sao Miguel Roxo  
Sarda  
Schar Israel  
Scotts Black  
Scotts Yellow   
Siblawi  
Skoura Vavatsika  
Slidel Black 
Smith            
Socorro Black  
Stallion 
Stella  
Strawberry Verte  
Sultane  
Sumacki    
SunFire  
Sweet George  
Sweet Heart 
Sweet Joy 
Syrian Long 
Tacoma Violet  
Taiwan Gold  
Tarentello   
Ted's Mega   
Texas Peach  
Tiger LSU            
To Fola 
Tres Ao Prato Sofeno Claro 
Troiano Calabrese  
UCR-128 
UCR-187-25
Ull De Perdiu
UNK 
UNK 
Ultimo Nero   
Unk Green Mission  
Unk Iraqi  
Unk Negretta      
Unk Pastiliere  
Unk Yellow  
Unk lost tag 2017  
Vadarano   
Vasilika Sika (Herman round leaf version)  
Vasilika Sika (Long finger leaves version)  
Ventura 
Verdal D'Oriola  
Verdal Siciliana 
Verdone 
Vernino 
Victoria 
Villefranche de Rouergue Noir
Violette De Bordeaux 
Violette de Sollies 
Violet Sepor 
Violetta   
Violetta Bella  
Vista 
White Azores 
White Triana  
White Triana NOT  
Wilmington Creeper 
Yede Vern  
Yellow Lebanese 
Yugoslavian Black 
Zingarella  
Zucchello